News on Products, Issues & Events
Here we will announce up-and-coming issues, products soon to be launched and exhibition news. Should you have any questions on any part of the topics then please Email or phone us at your convenience.
________________________________________________________________________




Payment Options
Check out our recent additional payment options.
We have added the option of deferred payment, where it may be better suited to orders that require extended attention in order for us to complete.
See the 'Info' section on the left of the page titled Payment Options Explained
Dembart Tools
We are disappointed to announce that we still await response from Dembart in regards to ordering of cutters and tools.
No response whatsoever has been received to our many communications of the last 11 months.
As a result we have no choice but to list the items as 'display/reference' only.
Should this situation change, we will announce on the home page of such.

Queen Anne and Dragoon Kit Fully Constructed
This would mainly apply to those located in the USA, although other countries are being discussed.

Our Queen Anne and Dragoon kits are soon to be available from within the USA, with the supply option of fully constructed and finished.
The company involved are a team who specialise in the workings of early period weaponry, insisting only on the level of exceptional craftsmanship, they have aquired a reputation to reflect exactly that.
They integrate their wealth of period arms knowledge, with high end modern day technology.
We feel that combining their expertise with the quality of our products, will achieve the result of a affordable, highest quality and 'fully finished' reproduction.

The price for a built and finished pistol, inclusive of the kit cost; would be $950 + shipping (USD).

The process would work as follows:-
Following pre-purchase discussion - (this is important as the state of supply will be different to that of the normal presentaion box shown on the website), we would send the parts to you the customer, or directly to the O'Harrow team.
They would then liaise with you directly for the duration of the order to its completion.

For more information on this, then contact Michael O'harrow at - moharrow@yahoo.com, or us here through our contact page.


The Burning Barrel Issue.....
We are pleased to announce that we are currently conversing with an American company in regards to availability of barrels for most types and lengths.
Discussions are at this point in their early stages, however there is a promising outlook from exchanges thus far.
We anticipate this would be of great interest to builders and re-enactors.
If you have a specific barrel interest, then please email us with your requirements, we will endeavor to factor such information into future communications.


PayPal
The option of payment by PayPal is now within the checkout process.

This is a much prefered method for many overseas, or those not wishing to disclose certain personal data. The only data issued to us are your email and residential address.
By using this method you are directed through to the Paypal secure website.
You will be requested to login and once payment is made you will be directed back to our site for final closure of the order.
The customer is protected by the PayPal terms of purchase/sale.
Email Request
We have noticed recently that some customers have external Spam facilities associated to their Email accounts.
As a result our automatic order conformation Email would not be received by the customer, more so - any update or query we send relating to the order would also not be received.
We ask that when ordering through this site that you add sales@blackleyandson.com to your 'friends/non spam etc' list on your email/ filtering software.
Please also note that we would only contact where there is a need, we do not advertise random products or contact you through the Email facility unless specific to your order.

Overseas Shipping
Due to some isolated issues recently relating to items sent outside the UK, we have decided to withdraw the standard '1st Class Mail' format of overseas shipping.
Items will now be shipped using the 'Tracked/ Track and Traced' format, where a signiture may be required upon delivery.
In most cases delivery will be made by your national delivery service (USPS etc).
Doglock Set
We are very pleased to announce the launching of our large Doglock castings set.
This is a large 8" lock from a 'club foot' stye stocked musket, It boasted a barrel length of 64 inches long and the overal length of the piece being 89 inches.
Origins presently unknown.

Manton 'V' Pan locks
Another project soon to be announced for sale is a MANTON V pan double lock set.
Details will follow soon.....
New Section
We have introduced a new section to incorporate Edge Weapon parts. Click here
Kit Format
Our kits are now offered with an additional choice of supply - 'Castings Only' format,
No box, barrel, stock, componds etc, just the bare bones casting set.
Changes To Section names
Due to our observation of feedback of the past years we have decided to make some small changes to the names of certain categories within the site.
The Lock parts sections have changes as follows:
1/ 'English' sub sections now known as ' Great Britain and Ireland'
2/ Round faced and Flat faced items (ie: flintcocks, hammers etc) have been merged into the one section,
For example - ' Flintcocks Civilian - Great Britain and Ireland'

The products have changed in no other way whatsoever and the drill down on the site is the same. However we may suggest that those of you who have saved pages to your browser favourites, now locate the page once more and re-save.
Tapping tools
We are now adding Threading tooling to the site.
For those of you constructing our kits, or assembling lock parts.
These are sold in sets, comprising the Tapping drill, Tap and clearance drill all in one convenient package.
Currency Converter
A Currency Converter has been added to the site to assist those wishing to compare our prices to their own currency.
This can be found on the left margin of the page under ''Information Pages'
New Wogdon Locks
Some may be interested to hear that we have acquired and soon to be making available, new sets of double and single WOGDON pistol parts.

The set will include:
Left and/or right lock set.
Trigger Guard (also single guard for those requiring only the right sided lock.
Double or single trigger assembly.
Standing double or single breech.
Butt cap.
Tail and middle (intermediate) ramrod pipes
These parts are very similar to those in our catalogue known as LP026, with of course the added benefit of a 'double' choice.

As on all our sets, the parts may be purchased as complete or selected items.
Miquelet
Our Miquelet lock set is now included in the Lock sets available, this can be found in the
Lock Sets Doglock, Miquelet, Wheelock, Snaphaunce section of the lock sets
More to come!
It has been common knowledge that our On-Line store has offered far from our full compliment of products that we offer.

We are presently setting a schedule for the inclusion of our complete range, which when applied will permit a far greater choice than presently experienced.
In view of the volume of items we are predicting many months for this work to be undertaken, as the work involved is quite intense.
Much of the work we anticipate to be undertaken before the years end.

It is also our intention to add these items to our paperback catalogue, this is however most likely to be following the Website completion.
Materials Added
Various Steel and Brass rod sections have been added to the store Click here



Card Security
Since this site has been operational, we have placed customers data and confidentiality foremost. We are pleased to announce that we now have a posh new logo to prove it!

The 'Security Metrics' logo on the left side of the screen is displayed in order to show visitors to the site, that we are PCI compliant.
This is to say that our system has been inspected and tested to the levels required by the latest Ecommerce data security regulations.
Added Item
Round faced Griffin lockset added to site. See Locksets/English round faced.
Added Items
Baker Patch box and Lovells Bayonet catch added to site.

Overseas Payment Transfers
Banking transfers from overseas will now be subject to a £6.00 additional fee.
This is a fee charged to us by our bankers.
We do request a prior arrangement with the customer for any invoice payment by this method.
Kit construction contact change
Please note the new email address for 'Steve Lodding' has changed.
Steve is our US contact for Kit building/construction, details can be found on the 'Kit' page of the site.
Added items
The Newland pistol lock and the Doglock have been added to the site.
The Doglock was supplied to us by the late 'Kit Ravenshear'
Barrels and Parts
Pistol barrels and plugs have been added to the site.
Available in machined or blank versions. Click here

Product Location
Ramrods have now been repositioned within the site and occupy the new section of Ramrod and Loading
Customer Packages
This facility allows account customers to organise their requirements previously arranged with us, where known items are not at this moment available through this site.
The 'package' is displayed in a sub-section veiwable by that customer only, therefore all details of the order are completely confidential.
This also enables the use of the On-Line security payment facility.

Should items be required that are known to you, yet not yet available through the WebSite, then please contact us to discuss your requirements and we will see to the rest.
Whitworth Lock
Lock set now available to compliment the casting set already available. Click here
________________________________________________________________________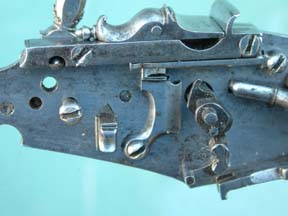 Wheellock Link
For those raising the issue of the the 'rogue ' part within the Brescian lock set, please Click here

_________________________________________________________________________
Snaphaunce lock set
Snaphaunce lock set now available


_________________________________________________________________________
Alex Henry Lock Set
The latest addition to our Lock Sets range is the Alexander Henry Rifle Lock See under Latest Additions or Lock Sets Percussion Rifle
Click here

_________________________________________________________________________